TMZ reports on this important development: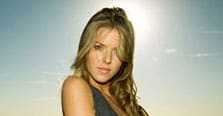 "Carrie Prejean and the people behind Miss California USA have dropped their lawsuits against each other — meaning the "biblically correct" beauty queen doesn't need to reimburse the pageant for her boob job.
We just received the following statement from Miss Cali USA: 'Carrie Prejean, Keith Lewis, and K2 productions have dropped their claim against each other and wish each other the best in their future endeavors. We are moving forward from the past and looking towards the crowning of two winners and the new look of the upcoming MISS CALIFORNIA USA pageant, telecast live on November 22nd.'"