The Hill reports on next year's agenda in Congress: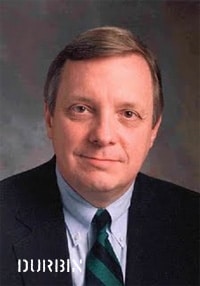 "Reid, meanwhile, has pushed for the repeal of the military's 'Don't
ask, don't tell' policy, which prohibits gays from serving openly in
the military. Gay-rights activists have put strong pressure on Obama and Democratic leaders to repeal the ban sooner rather than later. Reid
sent a letter to Obama last month asking him to provide recommendations
on gays serving in the military, noting that Congress is considering 'future legislative action.' Senate Majority Whip Dick Durbin
(D-Ill.) said he was not certain whether repealing 'Don't ask, don't
tell' would be on next year's agenda. It looks increasingly
likely that healthcare reform will spill into next year, and Democrats
have made it a high priority to overhaul the nation's financial
regulatory laws before next November. One Democratic
senator facing reelection in a Republican-leaning state said he does
not want to see the issue of gays in the military, immigration reform
or even climate change on next year's agenda."
If you recall, last month Durbin told Politico they were too busy right now to deal with it: "We have a very heavy, busy agenda and a few months left to do it. So it may not be now, but that
doesn't mean it won't be soon."
Apparently that doesn't mean it will be, either.
So, according to Durbin, not now, not next year. Once again, they'll get to the gay stuff when it's convenient (or, of course, when we start withholding campaign contributions again).