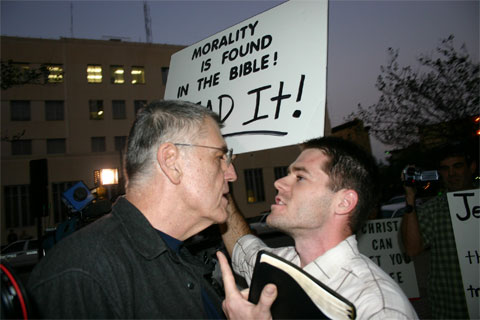 (image dallas voice)
Protests outside the Fort Worth City Council meeting last night were heated and vocal, with members of the group Queer LiberAction clashing with anti-gay Christians. In the photo above, Queer LiberAction's Rick Vanderslice argues with an anti-gay demonstrator. The Dallas Voice notes: "At one point, Vanderslice attempted to kiss the man."
The Fort Worth City Council later voted 6-3 to expand its anti-discrimination ordinance to cover transgender people. It already covers people on the basis of their sexual orientation.
"A lot of the debate, though, centered on broader proposals, some of
which the council has already tacitly approved. City staffers will be
trained on dealing with the lesbian, gay, bisexual and transgender
community, and the Police Department has appointed a liaison to the
community.Other recommendations will require further study,
including offering domestic-partner benefits and expanding the city
health insurance plan to cover gender reassignment procedures,
including sex changes. More than 200 people packed the council chambers, lining the walls and spilling into overflow rooms. 'We
believe, as you do, that we should respect each other,' said Jon Nelson
of Fairness Fort Worth. 'The foundation of these recommendations isn't
preferential treatment, it's equal treatment.' Three transgender
people — two transsexual women and a cross-dressing man — were among
those who spoke in favor of the ordinance."