Marriage Equality New York holding rally tonight to protest anti-gay vote in Maine: "Please join us at a rally on Nov 4th in Union Square on 14th Street
side at 5:30pm urging the NYS Senate to vote and in response to the
votes on marriage equality across the United States."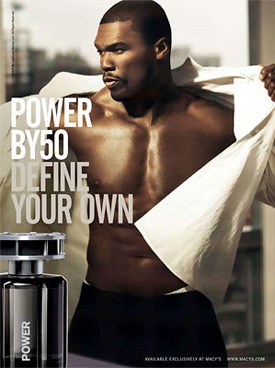 50 Cent is a power ______.

Venezuelan police harassing and arresting LGBT citizens: "Like most of those arrested, our identity
documents and mobile phones were taken away, we were beaten, our sexual
orientation was insulted in degrading language, and we were refused
permission to speak to the Justice Ministry officials and members of
the National Guard who were present."

Mark Kleinschmidt becomes openly gay mayor of Chapel Hill, North Carolina.

Just Jared interviews Glee's Mark Salling.


Author details how Tom Cruise personally audited him for Scientology: "You tell the ashtray, 'Sit in that chair.' Then you actually go over
and put the ashtray on the chair. Then you tell the ashtray, 'Thank
you.' Then you do the same thing with the bottle, and the book. And you
do this for hours and hours."

Fort Worth, Texas task force makes recommendations on expansion of gay rights in the city: "Jon Nelson, an attorney and chairman of the task force, called the
recommendations 'one of the most far-reaching actions this city has
taken, in the shortest amount of time.'"

Louisiana Justice of the Peace Keith Bardwell, who refused to marry an interracial couple, has resigned.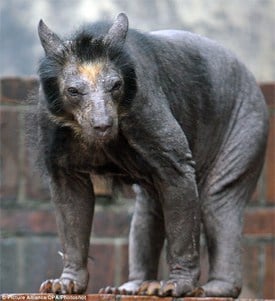 Female Spectacled Bears suddenly go bald in Leipzig.

Carrie Prejean – Miss California USA settlement details revealed:
"We've learned the Pageant will fork over around $100,000 for Carrie's
lawyers and publicists connected with the public battle royale. That
money goes directly to her flacks and not into her bank account. We're
told Carrie personally gets zilch.
What Carrie walks away with: Her book comes out on Monday and we're
told the Pageant won't fight her for writing it without its permission."

Sean Penn's son arrested at school.

Blu Dot tracks NYC abandoned chairs in "curb-mining" experiment.

Foundation for Reconciliation to deliver 2,000 signatures to Mormon leaders:
"About 50 people are expected to deliver the petition to the offices of
The Church of Jesus Christ of Latter-day Saints on Wednesday. Organizer
Cheryl Nunn of Santa Cruz, Calif., says the petition is a
reaction to the Salt Lake City-based church's support for Proposition
8, a 2008 ballot initiative that banned gay marriage in California."

Brad Pitt dresses up his beard with beads.

Facebook: the movie?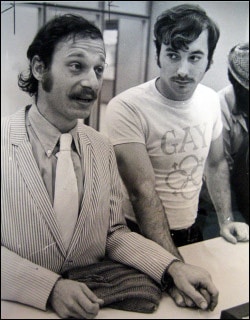 Seattle gay rights pioneer Paul Barwick reflects on applying for a marriage license in King County, Washington in 1971: We knew they weren't going to give us one, but damn it, they were going to have to tell us no to escort us out the door."

Early marriage equality advocates?

Gay Annapolis alderman candidate to file complaint over gay 'child molester' smears.

Dallas Morning News corrects article labeling OUT and The advocate "alternative lifestyle magazines."

Senator Kay Bailey Hutchison recommends gay man as U.S. Attorney: "Some Republicans are vehemently and unapologetically not ready for that. That could make it even harder for Hutchison to woo social conservatives in her bid to outflank and oust Gov. Rick Perry in March. "

Cyndi Lauper and Lady Gaga to hawk MAC lipstick for AIDS fund: "MAC Viva Glam Gaga Lipstick and Viva Glam Cyndi Lipstick, $14 each,
will launch in North America on March 18 and globally throughout the
month, with 100 percent of the proceeds being donated to the MAC AIDS
Fund."