An unfortunate and "contemptible" incident from every angle.
A temporary structure housing the remains of 9/11 victims was set on fire on Saturday in an act of arson. Brian Schroeder, a recent Harvard Law grad and co-president of the school's gay group, was arrested.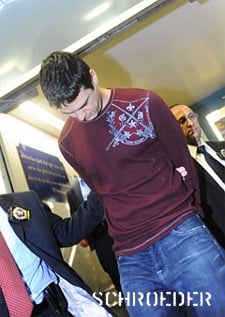 NYT: "None of the remains themselves were damaged, but candles and mementos left by victims' family members at the chapel behind the chief medical examiner's office, known as Memorial Park, were either stolen or burned, Mayor Michael R. Bloomberg said in a statement.' Anyone who would set fire to the inviolable Memorial Park chapel is craven and contemptible,' Mr. Bloomberg said.
Brian Schroeder, 26, turned himself into the police and was arrested Saturday evening, the department said. Charges were still pending, but a police spokesman said Mr. Schroeder was likely to be charged with arson."
The Harvard Law Record reports: "Schroeder, 26, is originally from Texas and received his
undergraduate degree from Duke, where he majored in theatre studies. He
was co-president of HLS Lambda and served on a task force to assess how
to limit the impact of military recruiting on the campus gay community.
He also edited the Harvard Latino Law Review and acted in the
Parody, a satirical comedy stage show about life at the school. After
graduation, Schroeder moved to New York, where he had a start date with
a law firm. He had spent the summer of 2008 as a summer associate for
the firm Sidley Austin. He turned himself in to the police on November 1st, and despite
allegations of a drunken dare, his motives remain unclear…Charges for arson are currently pending. "
The NY Daily News reports: "Defense lawyer Gary Lesser said Schroeder was boozed up – and believes someone may have 'put something in his drink.'
Schroeder also had no idea what he was lighting on fire. 'He voluntarily went to the precinct the next day after he realized the gravity of what had happened,' Lesser said…Schroeder, 26, a native Texan who just look a job at a Manhattan law firm, told cops he wasn't thinking – he was just dumb and drunk – when he lit the blaze early Friday morning…Schroeder's family and friends were shocked.'It's out of character and there's nothing that would lead me to believe it's politically motivated,' said brother Jared Schroeder, 28. 'Brian's not that kind of guy.'"
(image ny daily news)