Adam Nagourney reports on a resolution being passed around by top RNC members meant to solidify conservative tenets of the party: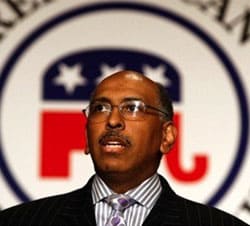 "According to the resolution, any Republican candidate who broke with the party on three or more of these issues– in votes cast, public statements made or answering a questionnaire – would be penalized by being denied party funds or the party endorsement.
The proposed resolution was signed by 10 Republican national committee members and was distributed on Monday morning. They are asking for the resolution to be debated when Republicans gather for their winter meeting."
Here is the resolution's list:
(1) We support smaller government, smaller national debt, lower deficits and lower taxes by opposing bills like Obama's "stimulus" bill;

(2) We support market-based health care reform and oppose Obama-style government run health care;

(3) We support market-based energy reforms by opposing cap and trade legislation;

(4) We support workers' right to secret ballot by opposing card check;

(5) We support legal immigration and assimilation into American society by opposing amnesty for illegal immigrants;

(6) We support victory in Iraq and Afghanistan by supporting military-recommended troop surges;

(7) We support containment of Iran and North Korea, particularly effective action to eliminate their nuclear weapons threat;

(8) We support retention of the Defense of Marriage Act;

(9) We support protecting the lives of vulnerable persons by opposing health care rationing and denial of health care and government funding of abortion; and

(10) We support the right to keep and bear arms by opposing government restrictions on gun ownership.
The deadline for submitting resolutions for the January RNC winter meeting is more than a month away.