The Domestic Partners Benefits and Obligations Act, authored by Rep. Tammy Baldwin (D-WI) advanced yesterday in the House Oversight and Government Reform Committee, the Washington Post reports: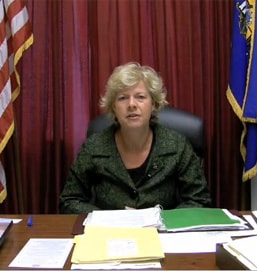 "After sometimes heated debate, the 23 to 12 vote in the Oversight and
Government Reform Committee broke down along party lines, with the
victorious Democrats arguing that the measure is a matter of fairness
and equality. Republicans opposed it because, among other things, they
said it would undermine the concept that marriage should be between a
man and a woman…Under the legislation, same-sex partners would be able to share the
workers' benefits, including those covering health insurance,
retirement and disability. The employee would have to sign an affidavit
certifying that the relationship meets certain standards in the measure
that define domestic partnership."
Said Baldwin: "Today's actions mark another significant step in our march toward LGBT equality. Our movement is gaining momentum around the country and Congress is following the will of the people.  Today is a day to celebrate yet another milestone and recognize anew that 'the arc of the moral universe is long, but it bends toward justice.'"
U.S. Office of Personnel Management Director John Berry also lauded the bill's passage: "I want to commend the Committee for approving the Domestic Partnership Benefits Act. This is an essential recruitment tool as we seek the best and the brightest to tackle the many challenges America faces. This is a positive step that helps the federal government to better compete with other employers for top talent.  President Obama has stated clearly that this is an issue of equality.  But just as important, youth today, LGBT or not, see this benefit as a litmus test for determining high quality employers. The Administration looks forward to continuing its work with lawmakers as the House and the Senate move toward enactment of this bill."