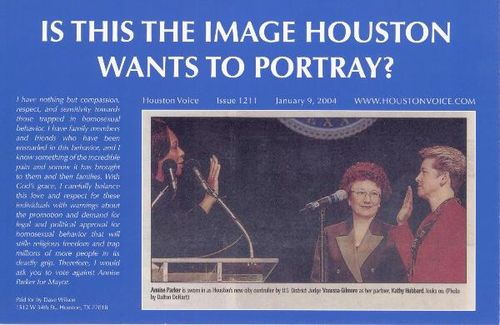 The homophobic attacks against Houston mayoral candidate Annise Parker have begun, and the first is a doozy. It's a postcard mailing to 35,000 people from local activist Dave Wilson featuring a picture of Parker and her longtime partner, which asks, "Is this the image Houston wants to portray?" and reads:
"I have nothing but compassion, respect and sensitivity towards those trapped in homosexual behavior. I have family members and friends who have been ensnared in this behavior, and I know something of the incredible pain and sorrow it has brought to them and their families. With God's grace, I carefully balance this love and respect for these individuals with warnings about the promotion and demand for legal and political approval for homosexual behavior that will stifle religious freedom and trap millions of more people in its deadly grip. Therefore, I would ask you to vote against Annise Parker for Mayor."
KHOU reports: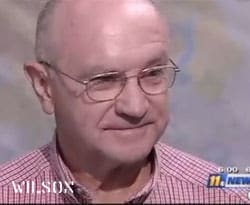 "Dave Wilson, an electrician who has spent years pestering incumbentpoliticians of both parties, has turned his sights on HoustonController Annise Parker. He says that Parker should not be mayorbecause 'homosexual behavior leads to extinction.' Wilson says he is mailing the fliers to 35,000 Houston voters whocast ballots both in the November mayoral election and in the 2008Republican presidential primary. 'I'd like to energize the conservativeChristian base in Houston, and get them to vote,' he said…'I don't see a good family, a Christian family, one man, one woman,' Wilson said. 'It's a picture of her and her mate being sworn in in public and that's the image I have a problem with.'11 News asked Wilson what he believes is wrong with the city having an openly gay mayor. 'The openly gay lifestyle leads to extinction,' he said. 'You can't reproduce.'"
Aside from the irrational bigoted nonsense and hate behind Wilson's perspective,  what the F does reproduction have to do with running a city?
A poll published yesterday showed Parker leading her opponenet Gene Locke by a margin of 47-34:
"A recent Lake Research Partners survey of likely voters in Houston's upcoming mayoral runoff shows that City Controller Annise Parker holds a strong lead over former City Attorney and lobbyist Gene Locke. In our recent survey, among likely voters with previous participation in past city runoff elections, Parker leads with 47 percent (37 percent strong) to 34 percent for Locke (27 percent strong). A fifth of voters (19 percent) remainsundecided.Parker holds this large lead even though the poll simulated high turnout among African American voters. The sample was comprised of 54 percent Anglos, 30 percent African Americans, and 12 percent Latinos. Parker remains the best-known and liked candidate in the race and she maintains her lead even under a simulated attack.Only a substantially negative campaign from Locke can interrupt her momentum. Sixty-seven percent of voters have a favorable impression of Parker and 62 percent think she has done either an excellent (21 percent) or good job (41 percent) as City Controller. Fifty-seven percent of voters hold a favorable view of Locke."
A news report on the flyer, AFTER THE JUMP…
The run-off election is December 12th. Annise Parker's campaign site is HERE.