The Kansas City Chiefs have cut running back Larry Johnson on his first day back from a two-week suspension.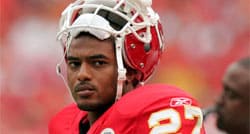 The suspension was the result of an October 26 incident
in which Johnson told two members of the media in the Chiefs locker
room, "Get your faggot asses out of here." He directed similar
language at a fan on Twitter.
Johnson's agent Peter Schaffer later made the ridiculous claim to TMZ that neither he nor Johnson knew that "faggot" was offensive. Said Schaffer: "We
know the N-word is unacceptable, that's not disputable — but f*g? I'm
learning that there's a segment of our society that finds it offensive
and that it should not be used. I didn't realize that, but I do know
now…"
The Kansas City Star reports Johnson's release was for "conduct detrimental to the team."
The Chiefs are planning a 3:30pm news conference to discuss the move.