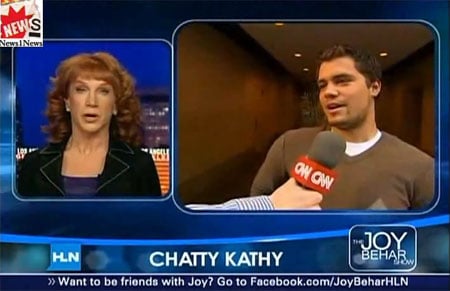 Kathy Griffin appeared on Joy Behar's show on Friday and much of the conversation revolved around – guess who – Levi Johnston (who actually called in to the show) and the media frenzy surrounding his Playgirl shoot. Griffin says she's seen the goods.
GRIFFIN: I would say he's going to need a very large fig leaf to cover it up,because it's something to behold. And women and gay men everywhere aregoing to be thrilled.
BEHAR: Do you think he realizes that Playgirl is not really read by women?
GRIFFIN: I don't think he cares. He's getting in great shape. He's getting apaycheck. And Levi enjoys being in on the joke. He likes playing along. He likes anything, I think that is a middle finger to Sarah Palin, and I'm with him on that one.
Watch, AFTER THE JUMP…