The NYT's take on marriage equality's chances this week: unclear.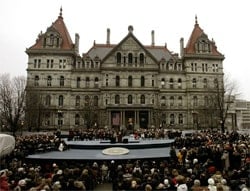 "Advocates on both sides of the issue lobbied senators over the weekend, but it was still unclear on Sunday whether the measure could attract the 32 votes needed in the State Senate for approval. (The Assembly has already passed the bill.)
Only three state legislatures nationwide have voted, without the intervention of the courts, to approve same- sex marriage.
In New York, Democrats hold a shaky 32-to-30 majority in the Senate, and some senators oppose allowing the legislation to come to the floor for a vote.
Those who favor the bill say they realize they are risking another significant defeat but are determined to get legislators on record on the issue. They also say that now may be the best time to push lawmakers to take up the bill, given that next year all 212 members of the Legislature will face re-election.
Estimates vary, but supporters of the bill believe they can count on about 25 votes for the legislation at this time."
Michelangelo Signorile makes an interesting point with regard to the recent NY-23 election: "I was actually wondering how the Dede Scozzafava debacle would play out
and I did think in fact it would scare Republicans in the Senate on
marriage for gays. The Republican Party in New York has known for some
time that state Republicans will be dinosaurs soon, as all the
surrounding states have marriage equality and the Northeast Republican
is heading for extinction and needs to make changes. However, those
with sites on national office, certainly saw what happened to
Scozzafava and took notice. If the local party is, perhaps, ready for
the change, the national party is light years away."
We spoke with David Paterson over the weekend on the issue. He'd like to know where everyone stands.