The Kansas City Chiefs saved Larry Johnson about $315,000 after cutting his punishment for directing anti-gay slurs at reporters and a fan in half. According to the AP, the Chiefs were afraid of losing in arbitration: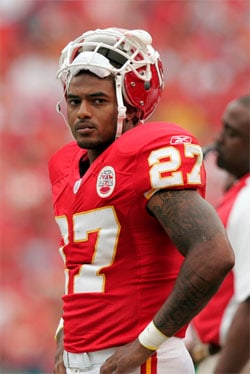 "The Chiefs issued a terse announcement saying they had made the settlement in conjunction with the NFL Management Council and the NFL Players Association. Originally, they suspended the former two-time Pro Bowler two weeks, which would have cost him about $630,000.
He will still miss the game at Jacksonville this week and not participate in team activities until Nov. 9. The Chiefs had said the suspension was for conduct detrimental to the team.
Johnson's agent, Peter Schaffer, told The Associated Press on Saturday the agreement had been tentatively agreed to. Schaffer said Monday that as far as he knew, Johnson would remain with the Chiefs. He needs just 75 yards rushing to become the team leader."
The punishment stems from an October 26 incident in which Johnson told two members of the media in the Chiefs locker room, "Get your faggot asses out of here." He later directed the same language at a fan on Twitter.
Johnson's agent Peter Schaffer later made the ridiculous claim to TMZ that neither he nor Johnson knew that "faggot" was offensive. Said Schaffer: "We
know the N-word is unacceptable, that's not disputable — but f*g? I'm
learning that there's a segment of our society that finds it offensive
and that it should not be used. I didn't realize that, but I do know
now…"
The Chiefs have refused comment throughout the incident.