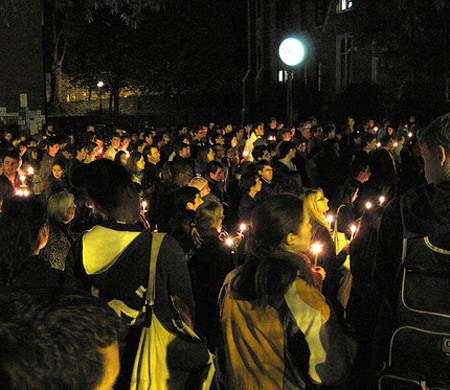 Several hundred Georgetown University students met in Red Square last night for a vigil against anti-gay hate crimes on campus following three recent incidents on campus — two attacks on students, and a case of vandalism against the school's LGBTQ Resource Center.
The Georgetown Voice reports: "Representatives of student groups from GU Pride to the Georgetown branch of the NAACP spoke at the vigil, as well as Georgetown faculty, staff, and administrators. Chris Farris and Todd Metrokin, Co-Chairs of the D.C. group Gays and Lesbians Opposing Violence, and Sergeant Carlos Mejia from MPD's Gay and Lesbian Liason Unit also made an appearance. 'We are here today in solidarity with the victims of these crimes,' Co-President of GU Pride Joseph Graumann (SFS '11) said. 'But solidarity is more than sympathy. It's more than just standing by. It's about action.'
Students at the vigil advocated a range of responses to improve student safety and address what they perceive as a campus culture that tolerates homophobia. Among the suggestions were a student community watch program and higher pay for DPS officers, as well as individual precautions like programming the DPS number into cell phones and reporting crimes when they occur.
There will be a meeting on Wednesday night at 11:00 a.m. in the ICC to discuss concrete next steps, according to the organizer of the vigil, Robert Byrne (COL'11)."
A slideshow of the vigil can be found at the Georgetown Voice.