The Victorian Labor Party is pressuring Australian Prime Minister Kevin Rudd to recognize marriage equality, the Sydney Morning Herald reports: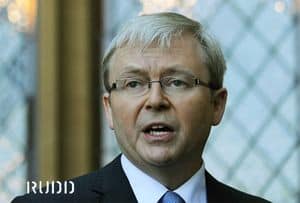 "Labor's state conference overwhelmingly passed a resolution at the weekend calling for gay and lesbian couples to be given the same rights as heterosexual couples, including the right to state-sanctioned marriage.
The resolution, which is supported by state ministers and which attracted cross-factional support, calls on the Federal Government to change the Marriage Act to allow for 'equal access to marriage, regardless of the gender of either partner'.
It also urges the Federal Government not to override new laws passed in the ACT that will allow same-sex couples to celebrate their civil union at a legally binding ceremony. 'Victorian Labor believes that people are entitled to respect, equality, dignity and the opportunity to participate in society free from hatred or harassment and receive the protection of the law regardless of their sexual orientation or gender identity,' the resolution says.
The conference vote puts the Victorian branch of the party at odds with both Mr Rudd and the Premier, John Brumby."
The Age reports: "The Rudd Government intervened last year to ensure ACT laws allowed
only for civil union ceremonies with no legal status, and Mr Brumby has
said his Government does not support gay marriage."