The Church of Latter Day Saints appears to have no problem with Salt Lake City's anti-discrimination ordinance extending beyond the city's borders: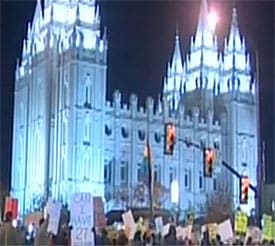 "The LDS Church's unexpected endorsement of two Salt Lake City gay-rights measures has many observers wondering if another surprise could follow: a friendlier reception in the 2010 Legislature for such protections statewide.
Even an LDS apostle — continuing the string of stunners –thinks Salt Lake City's ordinances could be a model. 'Anything good is shareable,' Elder Jeffrey R. Holland said in an interview Wednesday, referring to Salt Lake City's new policy aimed at protecting gay and transgender residents from discrimination.
He praised the efforts of Mormon officials and gay-rights leaders who sat down to discuss the issue before the church's endorsement. 'Everybody ought to have the freedom to frame the statutes the way they want,' he said. 'But at least the process and the good will and working at it, certainly that could be modeled anywhere and even elements of the statute.""
At hearings on Tuesday night, LDS representative Michael Otterson released a statement expressing support for the ordinance, which was passed unanimously, and extended protections in employment and housing to gays and lesbians.