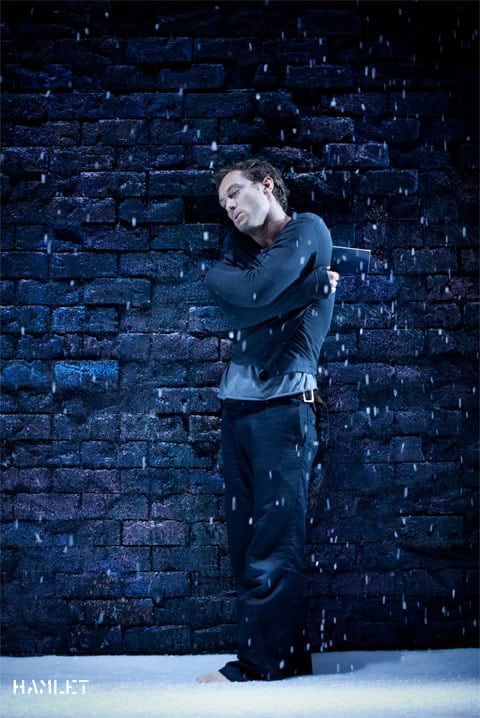 KEVIN SESSUMS
Kevin Sessums is back in the theatre for Towleroad this season. Kevin is also a contributing editor at Parade and The Daily Beast. His memoir, Mississippi Sissy, won a Lambda Literary Award last year.
There have been an awful lot of openings on Broadway and off-Broadway these past few weeks – and mostly it's been a rather awful lot. But there have been some surprises as well. The shows I most wanted to see disappointed and the ones I had to drag myself to ended up moving me in unexpected ways. First up for my thoughts this season are the ones I have grouped into the "presentational" category. Each of them to varying degrees is imbued with a proffered theatricality rather than an innate one.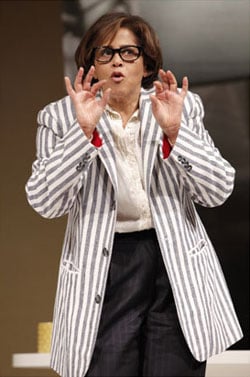 Let's start with the best of the bunch, Anna Deavere Smith's Let Me Down Easy at the estimable Second Stage. This was one of the shows I had to drag myself to. I have admired Ms. Smith in the past more than I have been moved or entertained by her. She can seem indulgent and even cloying from time to time when performing in work other than her own – Nurse Jackie on Showtime, for example, or in the film Rachel Getting Married. And yet a kind of astringent stridency – the exact opposite of cloying – has been the hallmark of her two past well-received one-woman shows I have seen – Fires in the Mirror, about the Crown Heights riots, and Twilight: Los Angeles, which concerned the even more infamous riots that erupted after the Rodney King verdict.
In the past I have considered Smith's singular talent — she received a MacArthur "Genius" Grant in 1996 – to be the one she employs leading up to the performance aspect of her work, which is to interview an array of people regarding a subject and then to edit these interviews with a searing precision into a chorus of voices and characters that are channeled through her in the productions that are subsequently staged. It is her ability to listen and elicit that has always struck me, not that ultimate channeling. It is a kind of heightened form of journalism she practices which is then raised, at its best, to art. Let Me Down Easy is an example of such a raising. It is, to me, her first true work of art. It is a stunning achievement.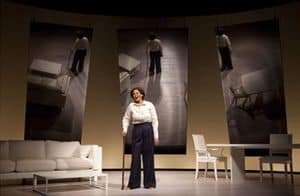 The subject she tackles in Let Me Down Easy is the most universal she has ever broached: how we all must face our own mortality. An offshoot of such a subject is the more topical one of the health care system with which many of us must deal before facing our impending deaths. But such topicality does not diminish the depth of Let Me Down Easy. She gracefully weaves both subjects into an evening filled with insight and laughter and, in the truest sense, soul.
Let Me Down Easy had its premiere back in January 2008 at New Haven's Long Wharf Theatre. Since then the show has changed directors and its current one, Leonard Foglia, has no doubt aided Smith in streamlining it into its now intermissionless 90 minutes by jettisoning some of the initial people she had interviewed and channeled. Yet even now the evening's one drawback is that it seems to have several endings until it reaches its final grace note as Smith so simply and profoundly lets the play itself come to rest in the words and actions of Buddhist monk Matthew Ricard. Indeed grace itself seems to have been Smith's guidepost as she put this production together.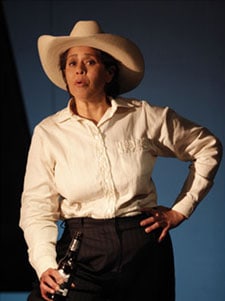 Other standout monologues are culled from the interviews she conducted with Ann Richards, former governor of Texas; Trudy Howell, the director of Chance Orphanage in Johannesburg, South Africa; Kiersta Kurtz-Burke, a physician a Charity Hospital in New Orleans; Susan Youens, a musicologist from the University of Notre Dame; and even Lance Armstrong, the Tour de France victor, and Michael Bentt, Heavyweight Champion boxer. There are 20 monologues in all. The subjects are as diverse as their own takes on death. But it is Anna Deavere Smith herself who remains in the memory, her own brave voice somehow revealed in the humility of subsuming it so that others can speak through her. It is a kind of alchemy that cannot really be described. One must witness it just as she serves as a witness for the men and women who put so much trust in her. And trust me on this: if you see one show this season, see this one. It has already been extended for an extra month until December 6th.
T T T T (out of 4 possible T's)
Let Me Down Easy, Second Stage Theatre, 305 W. 43rd Street, New York. Ticket information here.
***WISHFUL DRINKING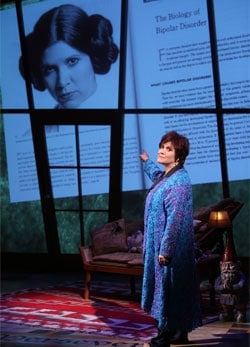 The other one-woman show currently on the boards is Carrie Fisher's Wishful Drinking, at the Roundabout's theatrical redoubt at Studio 54. Based on her bestseller of the same name, this evening could not be further from the kind of theatre Anna Deavere Smith is conjuring at Second Stage. Fisher does not so much conjure as con — and yet there is nothing more charming or enjoyable than a really great con when they are on their game and Fisher is certainly on hers. Just don't go to Wishful Drinking thinking you are doing to be deeply moved. You are, however, going to laugh a lot — which is the way Fisher herself has always deemed to deal with her demons of drug addiction and bipolar disorder. And yet, those are the two issues in her life that get short shift in the evening. The show is much more about the pitfalls of fame and is padded, as she prattles on about it with that keen combination of cynicism and sentimentality honed in the hills and psychiatrist offices of Hollywood, with her special kind of one-liners — the most engaging of zingers that, even as they expertly land and elicit the expected laughter, result in an emotional disengagement that therefore serve as a gauge themselves to the underlying sadness to the evening and her life. I found the whole thing oddly wanting so, by the end, wanted it to.
T T (out of 4 possible T's)
Wishful Drinking, Studio 54, 254 W. 54th Street, New York. Ticket information here.
Reviews of Hugh Jackman and Daniel Craig in A Steady Rain, and Jude Law in Hamlet,
AFTER THE JUMP…
***A STEADY RAIN
I recently interviewed Fisher for The Daily Beast and in the last year also interviewed both Daniel Craig and Hugh Jackman for their cover stories in Parade. I found both men utterly charming and possessing their own kind of keen combination — not of cynicism and sentimentality, though each had a bit of both — but of equal measures of masculinity and camp.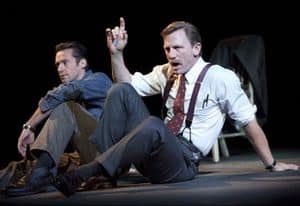 There is more of the former in their expert performances in A Steady Rain at the Gerald Schoenfeld Theatre, but the play itself is so over-the-top in its plotting and stereotypical in its blue-collar copper characterizations that it does at times border on a butch version of camp.
The two-hander, written by Keith Huff, and directed by John Crowley, concerns the symbiotic friendship of a couple of Chicago cops. Presented mostly in dueling monologues, the "play" is more like a pitch meeting for an HBO mini-series. Craig and Jackman, however, prove their mettle as stars as well as actors by keeping the audience's rapt attention throughout as they relate the story of their character's troubled and tangled lives. Craig's is the more potent performance yet Jackman more ably jump-starts the evening from time to time with his visceral appeal when the drama lags. Both are miscast and yet overcome such miscasting with sheer talent and sexual appeal and professional aplomb. If you're a fan of these men, you won't be disappointed. If you're a fan of the theatre, you probably will be.
T T 1/2 (out of 4 possible T's)
A Steady Rain, Gerald Schoenfeld Theatre, 236 West 45th Street, New York. Ticket information here.
***HAMLET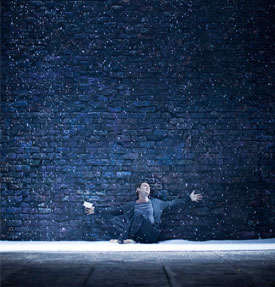 There is yet another foreign movie star on the Broadway stage this season, Jude Law, who is starring in Hamlet at the Broadhurst Theatre. I have included this production in the "presentational" grouping of shows because I found the evening so static. It often seemed as if the director Michael Grandage simply lined up his actors across the stage and then conducted them in a kind of choral reading of this Shakespeare tragedy. It's an expert choral reading, but a choral reading nonetheless. The characters had no relationships with each other — especially Hamlet with Gertrude and Ophelia. That might be because the performances of Geraldine James as the former and Gugu Mbatha-Raw as the latter were so weak though each was physically lovely.
Law as Hamlet was certainly not weak — and, yes, for the record, was certainly physically lovely himself. His performance impressed me but never moved me. There was a focus on elocution and mannerisms — every soliloquy was more than understood, it was practically diagrammed before our eyes with his flutteringly precise hands. The one emotion he chose to play was anger. This is one Hamlet who truly seethed. In fact, he was such an angry young man I thought at times he was playing John Osborne instead of Shakespeare. But he proves he's more than just a movie star. I would love to see him return to the stage for he does convincingly command it.
T T 1/2 (out of 4 possible T's)
Hamlet, The Broadhurst Theatre, 235 West 44th Street, New York. Ticket information here.
(photos joan marcus)