***A STEADY RAIN
I recently interviewed Fisher for The Daily Beast and in the last year also interviewed both Daniel Craig and Hugh Jackman for their cover stories in Parade. I found both men utterly charming and possessing their own kind of keen combination — not of cynicism and sentimentality, though each had a bit of both — but of equal measures of masculinity and camp.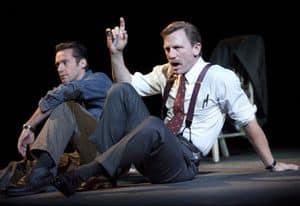 There is more of the former in their expert performances in A Steady Rain at the Gerald Schoenfeld Theatre, but the play itself is so over-the-top in its plotting and stereotypical in its blue-collar copper characterizations that it does at times border on a butch version of camp.
The two-hander, written by Keith Huff, and directed by John Crowley, concerns the symbiotic friendship of a couple of Chicago cops. Presented mostly in dueling monologues, the "play" is more like a pitch meeting for an HBO mini-series. Craig and Jackman, however, prove their mettle as stars as well as actors by keeping the audience's rapt attention throughout as they relate the story of their character's troubled and tangled lives. Craig's is the more potent performance yet Jackman more ably jump-starts the evening from time to time with his visceral appeal when the drama lags. Both are miscast and yet overcome such miscasting with sheer talent and sexual appeal and professional aplomb. If you're a fan of these men, you won't be disappointed. If you're a fan of the theatre, you probably will be.
T T 1/2 (out of 4 possible T's)
A Steady Rain, Gerald Schoenfeld Theatre, 236 West 45th Street, New York. Ticket information here.
***HAMLET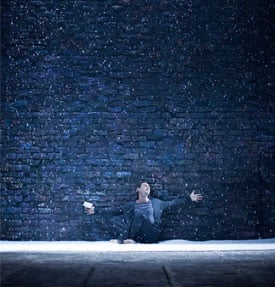 There is yet another foreign movie star on the Broadway stage this season, Jude Law, who is starring in Hamlet at the Broadhurst Theatre. I have included this production in the "presentational" grouping of shows because I found the evening so static. It often seemed as if the director Michael Grandage simply lined up his actors across the stage and then conducted them in a kind of choral reading of this Shakespeare tragedy. It's an expert choral reading, but a choral reading nonetheless. The characters had no relationships with each other — especially Hamlet with Gertrude and Ophelia. That might be because the performances of Geraldine James as the former and Gugu Mbatha-Raw as the latter were so weak though each was physically lovely.
Law as Hamlet was certainly not weak — and, yes, for the record, was certainly physically lovely himself. His performance impressed me but never moved me. There was a focus on elocution and mannerisms — every soliloquy was more than understood, it was practically diagrammed before our eyes with his flutteringly precise hands. The one emotion he chose to play was anger. This is one Hamlet who truly seethed. In fact, he was such an angry young man I thought at times he was playing John Osborne instead of Shakespeare. But he proves he's more than just a movie star. I would love to see him return to the stage for he does convincingly command it.
T T 1/2 (out of 4 possible T's)
Hamlet, The Broadhurst Theatre, 235 West 44th Street, New York. Ticket information here.
(photos joan marcus)