On Friday, Queerty reported that Regent Media had "gutted" The Advocate, firing approximately 13 staffers, and that the publication going forward would cease to exist in its current form and be a 32-page insert folded into OUT magazine.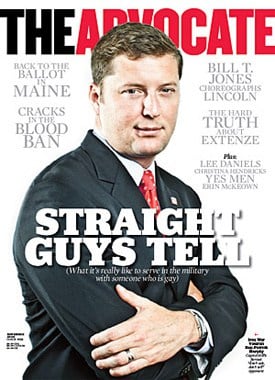 While there was no confirmation on the number of layoffs, Advocate editor-in-chief Jon Barrett posted a lengthy letter from general manager Stephen Macias on his Facebook page, responding to Queerty's David Hauslaib regarding the post.
Here's the letter:
Dear David,

I wanted to take a moment to speak to the inaccuracies of your story and tothe strength of The Advocate brand.

Clearly, 2009 has been one of the most challenging economic periods for allbusinesses in the United States. Moving strong, lean businesses forward in2010 requires that business models adapt. This company cares very much aboutthe history of the most important LGBT national news brand and is makingcareful and thoughtful decisions to ensure its survival and to position itfor growth. We are reorganizing departments to make that happen. That said,we are all very grateful for the work our departing staff memberscontributed–just as we are of those who continue to work with the company.

First, The Advocate staff has not been "gutted" as you write. We are,however, making strategic and sometimes difficult staff changes in order tosupport all iterations of The Advocate brand. The print expression (whichwill vary in size from month to month as it always has), will continue onits monthly schedule. Our website (which has quadrupled its traffic in thepast 16 months) will be relaunched early next year with enhanced technologythat will add dimension to the breaking news and features stories oureditors and reporters are already delivering on a several-times-a-day basis.So what does that mean for The Advocate reader? We'll still ask toughquestions of the White House press secretary around issues like DADT, we'llstill deliver online live video coverage of key events like today's passageof the Ryan White Care Act, and we'll report critical news around topicslike the Defense of Marriage Act–only now you'll get more of it (in a moretimely manner) than ever before. 
Letter continued, AFTER THE JUMP…
The Advocate brand will also expand, as previously announced, to include amonthly hour-long television magazine that will be broadcast on our sisterbrands here! TV and Gay.com and of course on Advocate.com. We are currentlyin production, and on schedule, for the show's February launch. Modeledafter CBS's tremendously esteemed 60 Minutes, this program will explore thecritical issues of the day through the Advocate lens.

All Advocate subscribers will continue to receive their print editions ofthe magazine, and editor in chief Jon Barrett (who is still employed withthe company despite an earlier Queerty report that he had been fired) hasbeen promoted to Advocate editorial director–overseeing all expressions ofextensions of the brand.

With regard to HIV Plus magazine, it will continue to be published under theleadership of editor in chief Michael Edwards. In fact, while Queerty waspropagating this inaccurate story, our staff was working closely with AIDSProject Los Angeles in preparation for a fundraiser for the group (inconjunction with HIV Plus) at the home of our CEO Paul Colichman.

Speaking of Mr. Colichman and our chairman, Stephen Jarchow. These two menhave invested a great deal of time, energy, and resources not only intobuilding a vibrant, collaborative workplace but into rebuilding, sustaining,and growing some of our community's most important brands. Mr. Jarchow haspassed on his commitment to the LGBT community to his lesbian daughter, Boo,who in addition to working at The Advocate and on Shewired.com, was aninstrumental young leader in organizing last month's March on Washington. Ihope other young people follow her good example as we all need to part ofthe solution for LGBT equality. One final note on your personal attacks: Mr.Colichman takes great umbrage to the characterization that he prances aroundthe office; he pictures himself much more as an optimistic skipper. We havethat from "multiple sources."

Here Media continues to evolve and integrate its many properties with careand respect in challenging times. In fact, The Advocate–throughout its fourdecades of service–is a great model when it comes to embracing change. Itbegan in 1967 as a mimeographed newsletter, evolved into a broadsheetnewspaper, transitioned into a tabloid, and then blossomed in its currentglossy iteration. The Advocate will continue to grow–especially online andon air–while maintaining its high standards in print.

On Wednesday, thousands of Advocate readers went to Advocate.com to watchlive video coverage of long-overdue passage of the Matthew Shepard and JamesByrd Jr. Hate Crimes Prevention Act. No other news site in the world thoughtthe moment was important enough to cover live, but The Advocate did–and theAdvocate will continue to do so. ***

Stephen Macias
***NOTE – Actually, Towleroad streamed the signature of the hate crimes bill live, as well as Obama's lifting of the HIV travel and immigration ban.