So the first half of Levi Johnston's Playgirl photo shoot took place yesterday, US magazine reports: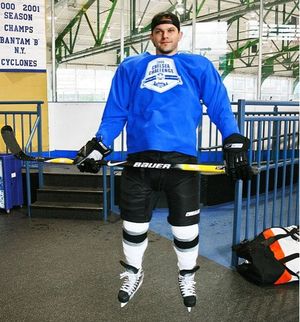 "'The shoot was fantastic!' Johnston's manager, Tank Jones, tells Us of Johnston's New York session, adding that the nude model wasn't nervous in the slightest. 'We're having a lot of fun with it,' Jones teases.
And, ahem, how much did Bristol Palin's hockey-playing ex reveal? 'People are going to see more of Levi than they thought,' Jones tells Us. 'There was a hockey stick involved.'
The fun's not over, either: a second photo session takes place Friday. 'Part two is going to be fantastic. That's all I can say.'"
Towleroad can now reveal the actual hockey stick used in the shoot. Occasional Towleroad correspondent Josh Koll (pictured, with stick) revealed on Twitter: "The hockey gear and stick Levi Johnston used today in his Playgirl photoshoot? Totes mine. Lent it for the shoot."
Playgirl consultant Daniel Nardicio tweeted about the shoot as well, revealing that Levi's lily-white skin was enhanced by some spray tanning: