Levi Johnston has chosen to leave certain bits to the imagination.
The NY Daily News reports: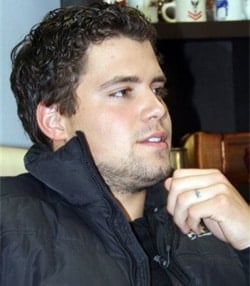 "Daniel Nardicio, a spokesman for Playgirl, confirmed Monday that the baby daddy of Sarah Palin's only grandson left something to the imagination in his photo shoot last week.' He did not give 'full frontal' as his manager Tank (Jones) reported he would,' Nardicio told the Daily News. 'We're thrilled with the photos we got, and are confident people will love them, but although there may be glimpses, we did not get full on frontal nudity,' Nardicio said.
Earlier this month, Jones told the News he expected Johnston would pose 'totally naked, unless something changes.' He said he didn't expect anything to change.
On Wednesday, the day before the photo shoot, Johnston declined to tell the News whether he planned to pose completely nude. He said he hoped the shoot, for which he was getting paid more than $100,000, would be classy."
Booo. Hissssss.
Publication has reportedly been pushed up to this Saturday, November 21.