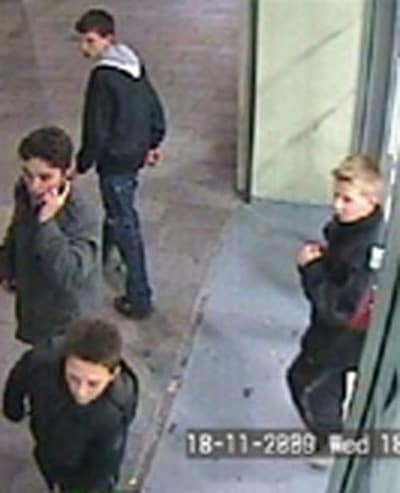 Liverpool police have released a CCTV image of four boys responsible for a November 18 attack on a gay student. There were reportedly six boys involved in the attack, all between the ages of 12 and 14. Their victim was 19-years-old.
Liverpool Daily Post reports: "They left him covered in blood and needing surgery on a broken nose.
The victim, a Liverpool community college student, was walking up Lord Street towards James Street station shortly before 7pm when he passed the gang of youths outside Tesco.
The group followed him up the street and, when he reached the Pret A Manger sandwich bar, they attacked him from behind, punching him in the back of the head.
They shouted homophobic insults at him during the assault.
The victim suffered cuts and bruises to his head and a broken nose.
Speaking to the ECHO last week, he said: 'I was bombarded with punches. I did not know where they were coming from. They were shouting, 'what the **** are you wearing?!' I cannot even get on the train without suffering abuse. It is everywhere I go. I wear colourful stuff and lipstick, but if I didn't, it would be restricting how I want to be.'"
The attack comes less than a month after a gang of up to 20 youths attacked gay police trainee James Parkes as he was leaving a nightclub.