New York local station NY1 has posted a new tally of senators with regard to the marriage equality bill.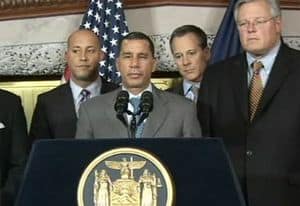 "Of 62 senators, 21 are supportive. The remaining 41 are opposed, wouldn't say, or couldn't be reached Wednesday, a state holiday.
Proponents admit some of the 30 Republicans will be needed. A spokesman for the GOP conference says none are publicly supportive.
Opponents like New Yorkers for Constitutional Freedoms Executive Director Jason McGuire say they have reason to be concerned at the polls, referencing a socially moderate Republican pushed out by a conservative in a recent congressional contest upstate.
"No senator wants to be the next Dede Scozzafava and lose their seat because of the issue of marriage," McGuire said.
On the other side, there's political heft for supporters facing a tough vote. Generous campaign contributions from gay rights supporters helped return Democrats to senate power for the first time in more than four decades."
Here's the full breakdown.
Paul Schindler at Gay City News has an excellent inside piece up regarding the negotiations on Tuesday which led to an agreement that a vote would be made on marriage equality before the end of the year:
"The commitment brokered did not come easy. According to several sources with direct knowledge of the discussions, for much of the day the leadership held out for its status quo position — that a vote would come only when success was assured, whatever that means precisely. In addition to the accountability issue, that made it likely the bill's consideration would spill over into 2010, an election year for governor and the Legislature, the wrong time for taking action on controversial issues.
Bitterness and some measure of distrust among the parties also proved a problem. Both Sampson and Klein did not mince words in letting Van Capelle know they were upset by remarks he made at ESPA's October 22 fall dinner in Manhattan.
Voicing frustration at what he characterized as allies unwilling to walk the walk after the LGBT community's strong financial support for electing a Senate Democratic majority last year, Van Capelle had warned that if no vote happened on marriage equality, 'We can find other friends who will do that job for us and do it faster. We know such friends exist.'"