A challenge to New York's recognition of same-sex marriages performed elsewhere has failed in a 4-3 ruling by the state's highest court, the Ithaca Journal reports: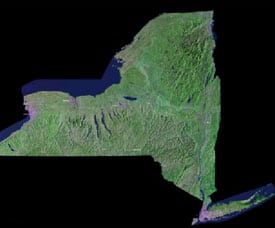 "The state Court of Appeals rejected a Christian legal group's claim that the extension of benefits to gay couples was illegal based on current state law.
But the court stopped short of declaring same-sex marriage in New York legal, saying that such a decision should be left to the state Legislature. The state Senate has yet to pass the measure.
'We end … expressing our hope that the Legislature will address this controversy,' the ruling found.
The Alliance Defense Fund of Scottsdale, Ariz. argued that since same-sex marriage is not legal in New York, state and local governments should not extend equal benefits to gay couples."
The NY Times reports: "One of the cases involved the State Department of Civil Service, which in 2007 extended health insurance benefits to the partners of state and local workers who were married out of state.
Another case involves a similar policy in Westchester County. In 2006, the county executive, Andrew J. Spano, ordered county officials to recognize same-sex unions performed elsewhere.
Advocates on both sides were not immediately available for comment.
The two cases are narrower in scope than — but touch upon — a broader effort to have the state government recognize gay marriages."