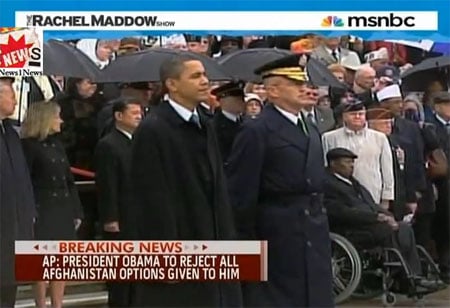 Obama has rejected several options given to him on next steps in Afghanistan, and told advisers to return to the drawing board, after deciding none of their plans would do.
NYT: "General Eikenberry sent his reservations to Washington in a cable last week, the officials said. In that same period, President Obamaand his national security advisers have begun examining an option thatwould send relatively few troops to Afghanistan, about 10,000 to15,000, with most designated as trainers for the Afghan security forces. Thislow-end option was one of four alternatives under consideration by Mr.Obama and his war council at a meeting in the White House SituationRoom on Wednesday afternoon. The other three options call for trooplevels of around 20,000, 30,000 and 40,000, the three officials said."
Also in question is the effectiveness of the U.S. relationship with President Hamid Karzai.
Watch Rachel Maddow's report, AFTER THE JUMP…