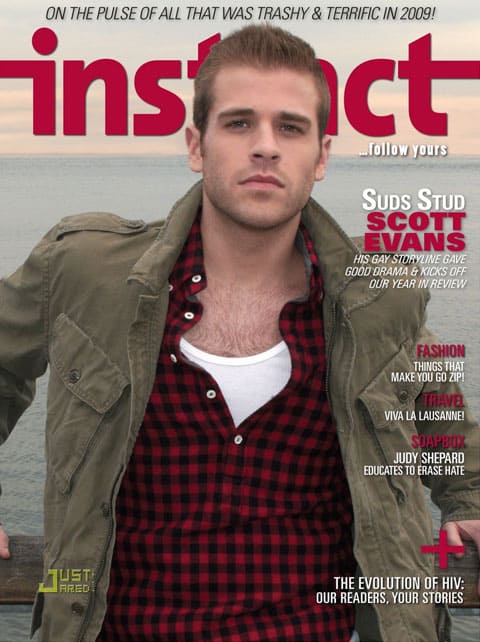 One Life to Live's Scott Evans, who plays hunky gay cop Oliver Fish on One Life to Live, appears on the cover of the Dec/Jan issue of Instinct magazine.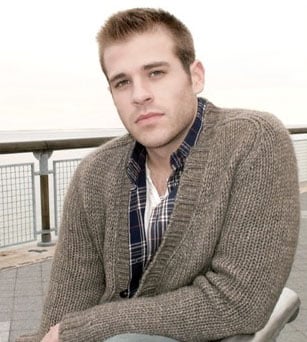 To continue today's supportive parents meme… From the cover story:
"Brother of movie star Chris Evans (Fantastic Four's flaming hetero),
the 26-year-old Scott experienced what can sadly be considered a
rarity: coming out to an instantly supportive family. The actor
describes his real-life mother—who also portrays Fish's mother on the
show—as a 'liberal, awesome, crazy' woman, a woman who responded to her
son's coming out with, ''Oh, yeah. I knew when I gave birth to you.''
Unfortunately, the Fish family was poised to react in a starkly
different way to the experience, as thoughtfully penned by OLTL
head writer Ron Carlivati and team. The Evanses, mother and son, would
themselves depict the all-too-common story of intolerance and
disapproval unleashed in the aftermath of a son's coming-out moment.
Filmed on set this past summer, Officer Fish's mom immediately cut ties
with him after learning of his sexuality—a stretch even for the talent
of Lisa Evans. 'It was heartbreaking for her. Once the scene ended, she
came to me crying and would hug me, saying, 'I love you,'' remembers
Scott."
(images via just jared)