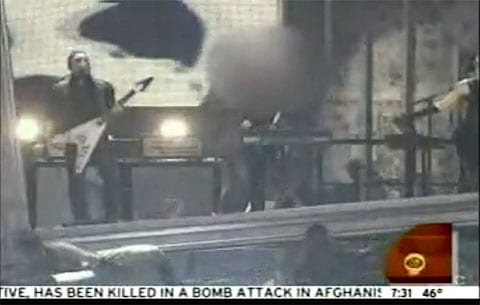 That blur you see above in the center of the screen is CBS censoring its rebroadcast of Adam Lambert's gay kiss.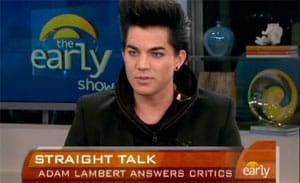 Lambert ended up on CBS The Early Show this morning because ABC's Good Morning America deemed his performance too racy for early in the morning and canceled it.
Lambert told CBS Early Show's Maggie Rodriguez in an interview before he performed this morning that he understood why ABC was upset about the performance, but he also said that there's a double standard:
"I think that if it had been a female pop performer doing the moves that were on the stage, I don't think there would be nearly as much of an outrage. At all. Like I said, there were other performers doing risque things. I think it's because I'm a gay male, and people haven't seen that before."
And then what did the Early Show do?
They proved Lambert ABSOLUTELY RIGHT by blurring out the AMA footage of his gay kiss, and showing the Madonna – Britney Spears kiss moments later  — while at the same time calling out ABC for editing the AMA footage for the west coast.
Watch, AFTER THE JUMP…
Watch CBS News Videos Online
And here's the blur of the male kiss and the reveal of the female one: