Dr. Ralph Edward Newsome Jr. was stabbed to death in his home in the French Quarter, and someone lit the home on fire after the murder attempting to cover evidence, the Times Picayune reports: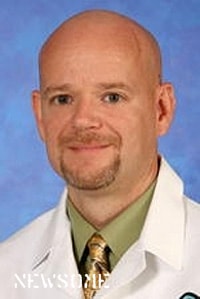 "Dr. Ralph Edward Newsome Jr., 45, died after being stabbed multiple times inside his three-story town house in the 900 block of Toulouse Street about 3 a.m. His body had no burns, and he had not inhaled any smoke, meaning someone set fire to the home after he was stabbed, New Orleans coroner's chief investigator John Gagliano said…A 911 call reporting a blaze led New Orleans firefighters to Newsome's home. They found smoke flowing out of the second floor and soon discovered a large fire burning toward the back of an attic. They struck three alarms and rushed 68 firefighters to the scene, spokesman Edwin Holmes Jr. said.
Newsome's neighbors told rescuers that they never saw him exit his house. Firefighters barged into the home and found an unconscious Newsome on the second floor, stabbed several times.
Firefighters brought him outside to waiting New Orleans EMS paramedics. They took him to LSU Interim Public Hospital, where he was pronounced dead.
New Orleans police detectives haven't announced any suspects or a motive in the case, spokeswoman officer Shereese Harper said."
Newsome was a plastic surgeon at Tulane University, specializing in disfigured trauma victims and skin cancer patients. Said Dr. Benjamin Sachs, the dean of Tulane's School of Medicine: "It is a tragedy for this city to lose such a brilliant surgeon. We have
lost a major leader and gifted educator. He was an extraordinary physician."