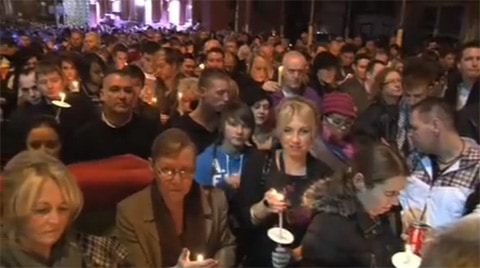 Following a massive vigil held in London's Trafalgar Square on Friday night, thousands turned out on Sunday for another vigil in Liverpool in honor of James Parkes, a police trainee who was attacked by a gang of up to 20 youths after leaving a bar last week.
Parkes was discharged from the hospital on Friday and is recovering at home, the BBC reports.
Said Parkes' partner Tom Downey at the vigil: "We have been amazed at the amount of support and best wishes that Jay and our families have received. We are pleased to see people are as outraged by this attack as we are."
Watch some amazing scenes and speeches from the vigil and an interview with Downey (below), AFTER THE JUMP…