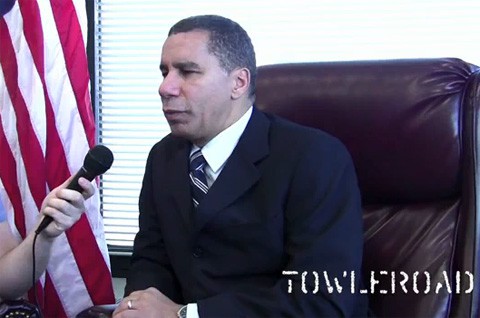 New York Governor David Paterson has scheduled a special session of the state Senate for this Tuesday, November 10. Paterson has placed a marriage equality bill on the session's agenda.
Yesterday, Corey Johnson and I sat down with Paterson for an exclusive interview with Paterson in his office in Harlem to discuss that bill and ask him whether or not he believes action will actually take place on Tuesday, and what conversations he's had with Senate leadership that indicate it might be acted upon. We also ask him if he thinks Obama needs to take a stronger position on issues important to the gay and lesbian community like the ballot measure in Maine.
Watch the interview, AFTER THE JUMP…
Says Paterson of the marriage equality bill: "People who've lived together for 10, 20, 30 years are waiting, hopingthat this legislation will pass while they still have the breath toelicit an 'I do' on the altar, and I think it's time that it happens,and if I have to see legislation fail so I can identify who votedagainst it to better persuade them, then I'll take that chance."
Of the bill's fate should Senators vote on it, Paterson says: "In this case, I have a feeling if it got on the floor it would be voted up."
Paterson also says people should see opportunity in defeats like the ballot measure in Maine: "I think there's this feeling that if legislation fails that it's this colossal loss for the cause. I find it to be motivational. I think that the public referendum in Maine should inspire us that there's more work to do, more persuasion to be made, more understanding to be reached, and more sensitivity to be displayed, and those of us who have been a catalyst for marriage equality have to regroup and work harder."
We also ask Paterson about the ads he posted on Friday which signal he's already begun his 2010 campaign for governor.
Watch the interview, AFTER THE JUMP...