New York Governor David Paterson has called the State Senate back to Albany for an extraordinary session on Tuesday, November 10, and the marriage equality bill is on the agenda.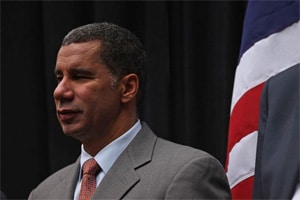 The Empire State Pride Agenda released a statement this afternoon:
"Marriage equality has been an issue Governor Paterson has long
championed and we are thrilled he has called the State Senate back to
Albany next Tuesday and put the marriage equality bill on the agenda.
We now expect that we will get the respectful debate and vote that
we've been waiting for since June. There is never a wrong time or inconvenient time to debate human rights
legislation because it's always the right time. As long as a group of
New Yorkers are being denied equal rights, addressing issues like
marriage equality must always be a priority. Support for providing
equal rights to LGBT New Yorkers has always been bipartisan, and we
expect that this bill will be no different. We look forward to hearing our lives and our families debated on the
Senate floor next Tuesday. It's now time that each of the 62 State
Senators vote their conscience on this bill that has great implications
for hundreds of thousands of New Yorkers in all parts of the state."
Although Paterson has the power to set an agenda, he cannot make lawmakers act on it, and it remains unclear where the votes lie. The session begins at noon on Tuesday.
New Yorkers, the time to contact your senator is now. You can do so easily HERE.