One man has been arrested for an anti-gay attack on two men that happened early Sunday morning in Lakeview, New York, WPIX reports: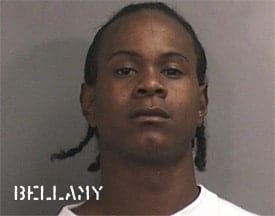 "The two victims, one who was dressed up in drag for Halloween, were walking on Woodfield Road near Janos Ave. at around 1:50 a.m. when they were approached by a car being driven by a woman with three men inside.
The three men, one who has been identified as 23-year-old Robert Bellamy Jr. of Lakeview, exited the vehicle and surrounded the victims who were on their way home from a Halloween party.
Bellamy is accused of punching one of the victims in the face and then, along with the two other suspects, punched the second victim in the head, knocking him to the ground and calling him a 'faggot' during the assault, police said.
While the victim was on the ground, all three suspects reportedly kicked him in the stomach and stole $7 from his pockets before fleeing the scene.
The suspects initially spotted the two men at a gas station where they hurled anti-gay remarks at them, Nassau Police Commissioner Lawrence Mulvey said."
Said Bellamy to police: "God made me hate gay people."
The victims were brought to the hospital, treated, and released.