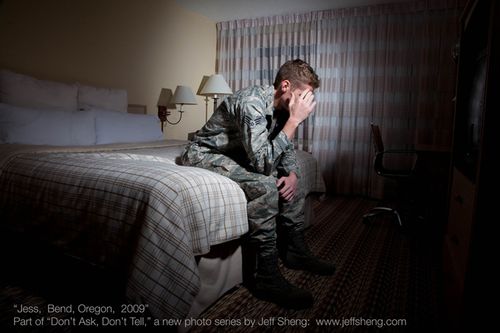 Photographer Jeff Sheng is seeking as many participants as possible for a new photo project:
"Jess,  Bend, Oregon,  2009" is part of my newest photography project, "Don't Ask, Don't Tell," a series of photographs of closeted men and women in the United States military. For each image, I have asked the individual to wear their uniform, while staging the photoshoot in the bedroom or local hotel room where that person is currently stationed.  The reason for this is that I am most interested in the intersections between public and private space, and the government's policing of our private spaces – the bedroom being the most representative space of this.  I have purposely shot each image in a way that obscures to some degree the identity of the individuals, and the final image that is released to the public is first approved by the subject, and is in many ways, their expression of their closeted-ness and lack of identity.  The name and location is also fictional: I have asked the subject to give me a first name and a location that is significant to them, but does not actually refer to the true name and location of who is in the photograph. My aim in this project is to use photography to create a visual record of the numerous individuals currently serving our country that are unjustly forced to hide an integral part of who they are."
You can contact Sheng via his website.