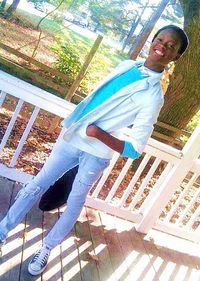 Jason Mattison Jr., an openly gay teen who attended Vivian T Thomas high school in Baltimore, was recently murdered:
 "…while Jason appeared strong and confident in the safe confines of his school on North Calhoun Street, unafraid to embrace his sexual orientation as part of his personality, the world outside did not offer those same protections.
Last week, at his aunt's house, one of the few occupied homes on a block boarded and sagging, he was found dead – raped, gagged with a pillowcase, stabbed repeatedly in the head and throat, and shoved into an upstairs closet. Jason's killing left his teachers, classmates and relatives in tears and family members asking questions of one another even in the days leading up to today's funeral.
Did Jason leave his mother's house and move in with his aunt, as his grandmother suggested? Or was he just visiting on that fateful day, as a cousin said? And why did people in his aunt's house open their door to the suspect, a convicted killer released early from prison because of flaws in his case?"
Lots of questions surround this very sad case including what the police mean when they say Jason had a 'forced sexual relationship' with his killer."