The L.A. Times reports on the runoff election (taking place tomorrow) between former senator Kasim Reed and Councilwoman Mary Norwood. Both candidates have turned their attention to the 12.8% of Atlanta voters who are LGBT.
The LAT reports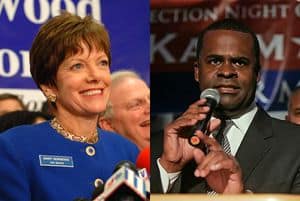 :
"…the wooing of LGBT voters here has become particularly intense since the Nov. 3 general election, when Councilwoman Mary Norwood and former state Sen. Kasim Reed earned spots in the mayoral runoff. 'I cannot recall a mayor's race when there's been so much attention placed on the gay and lesbian vote,'said Jeff Graham, executive director of Georgia Equality, the state's largest gay rights group.' All of a sudden, overnight, it's like an unbelievable push [to prove] who's gayer,' added Glen Paul Freedman, chief of staff for City Council President Lisa Borders.Eleven days after the November vote, Norwood — who would be the first white mayor of Atlanta since the 1970s — was outside the state Capitol for a rally protesting Proposition 8, California's anti-gay-marriage measure. She told the crowd she had sent a donation to the forces fighting Prop. 8, and called herself 'the only mayoral candidate who supports full marriage equality.'A rainbow flag icon is now featured prominently on Norwood's campaign website; it links to a page reminding viewers that "each person in a couple" can contribute $1,200 to a candidate in the runoff.Her rival, Reed — a favorite of Atlanta's civil rights establishment who favors gay civil unions, not marriage — has touted his pro-gay-rights record in the Legislature, where he sponsored a hate crimes bill that extended protections to gays.Reed, in a recent televised debate, attacked Norwood for missing a City Council vote on a measure to extend pension benefits to domestic partners of city employees."
Reed talks about his endorsement from the General Assembly's only openly gay member Karla Drenner, and Mary Norwood speaks at a marriage equality rally at the state capitol on the anniversary of Proposition 8 – AFTER THE JUMP...
Atlanta mayoral candidates appeal to gay vote [la times]
Mary Norwood: