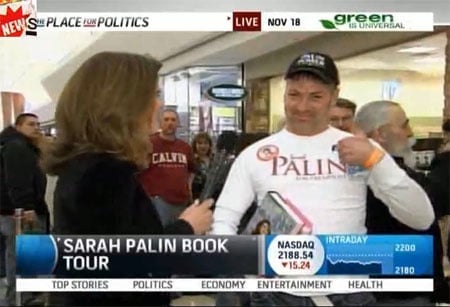 The nuts were out in full force in western Michigan at a Palin book signing. In fact, they camped out overnight for it.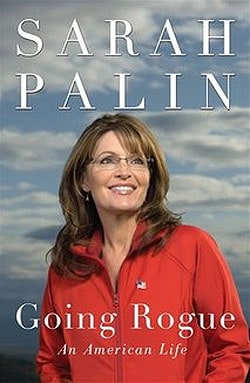 Says the supporter above:
"She's a very real person. She's a very fresh breath of air in our political system that's gone very stale over the last many years. She's not afraid to tell it like it is. Considering the three that we had running last time along with Sarah Palin, she was by far the most qualified to hold that office today. More qualified than John McCain, Joe Biden, and Barack Obama. All they've ever done was hold a seat in the senate for a debate committee."
Also, Michelangelo Signorile notes a report on Politico about the signing: "Aside from his showing that it truly is a campaign rally rather than abook signing, there are a couple of interesting observations re: thefans. One man notes that Palin is for 'putting the homos back in thecloset,' and, sure enough, minutes later a security guard tells anotherman who is wearing a 'Homos for Palin' t-shirt that he's got to 'zip itup' or leave."
The Palin book has also been blamed for the shooting of Rachel Maddow (watch clip #2 – apologies for the misposted clip earlier – and I didn't mean to scare anybody!)
Watch, AFTER THE JUMP…
And Going Rogue has shot Rachel Maddow:
"You."