A $2 million study commissioned by Roman Catholic Bishops at the height of the Church's sexual abuse scandal has found no connection between sexual orientation and abuse of children by clergy, the AP reports: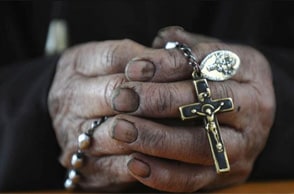 "The full report by researchers at the John Jay College of Criminal Justice won't be completed until the end of next year. But the authors said their evidence to date found no data indicating that homosexuality was a predictor of abuse. 'What we are suggesting is that the idea of sexual identity be separated from the problem of sexual abuse,' said Margaret Smith of John Jay College, in a speech to the U.S. Conference of Catholic Bishops. 'At this point, we do not find a connection between homosexual identity and the increased likelihood of subsequent abuse from the data that we have right now.'
The question has been raised repeatedly within and outside the church because the overwhelming majority of known victims were boys. As part of the church's response to the crisis, the Vatican ordered a review of all U.S. seminaries that, among other issues, looked for any "evidence of homosexuality" in the schools."
According to the AP, almost 14,000 sexual molestation claims have been filed in the past 60 years against Catholic clergy.