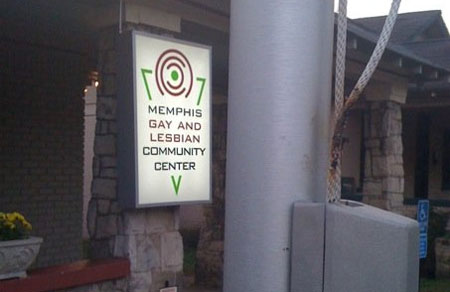 Memphis police arrested 23-year-old Ross Burton early Wednesday morning as he and another man attempted to set fire to the rainbow flag (see singed rope in photo, above) at the Memphis Gay and Lesbian Community Center, the Memphis Flyer reports: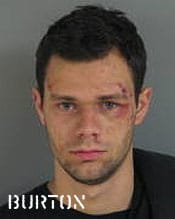 "Plainclothes officers observed Burton and another man — who fled the
scene and remains at large — attempting to set fire to the rope that
runs up the flag pole in front of the MGLCC. When police officers
approached the men, an altercation ensued, and one suspect attempted to
disarm an officer. Additional police were dispatched and some
reportedly received lacerations and abrasions from the struggle. The
suspects fled, but Burton was located and arrested. Burton is being charged with aggravated assault and vandalism under $500."
Burton's face is bruised because he fought with the officer, Russell Woolley: "Woolley says after Burton 'swung his fist at him,' the other guy jumped on his back and tried to take his 'service pistol from the holster.'
After Woolley hit the unidentified man with his radio, he took off.
But Burton never gave up the fight. It took a good samaritan and some pepper spray to get him to comply."
In late September a "Coming Out Day" billboard featuring a gay Marine that was sponsored by the Center was destroyed in an act of vandalism. Police have not determined whether the two crimes are related.
That crime inspired hundreds to rally in response.