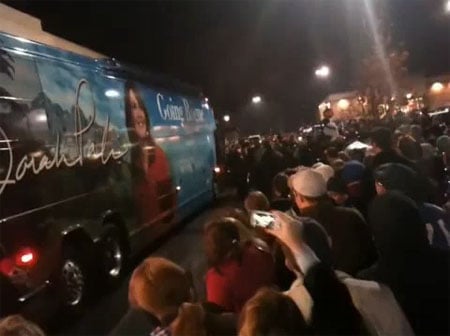 Several hundred Palin fans in Noblesville, Indiana crowd who had waited up to nine hours on a rainy night with books and wristbands to see Sarah Palin were denied face time with no explanation. And they weren't happy. The mob gathered around her bus, booing her as it pulled away on Thursday.
Watch the video, AFTER THE JUMP…
Palin released a statement on her Facebook page: "I've been told that yesterday there were supporters in Noblesville whostood in long lines for hours in the cold and rain, and the booksigning event ended without a chance to say hello to everyone whoshowed up. I am so sorry. We are working on a solution for those whowere left behind. I apologize."
MSNBC talks to some disappointed bookholders: