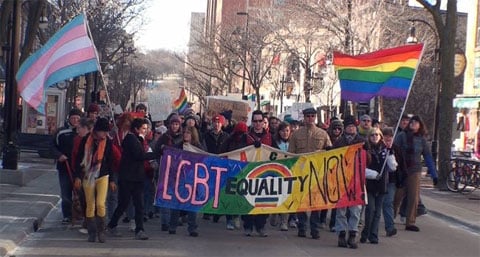 Inspired by the National Equality March, approximately 200 marched on the Wisconsin Capitol Saturday demanding equal rights for LGBT people, the Badger Herald reports:
"About 330 people confirmed on Facebook, and about 800 said they might attend. The march wasorganized by Unified for Equality, a group composed of Madison areaorganizations supporting equal rights for the lesbian, gay, bisexualand transgendered community. Sponsors included the Madison AreaTransgender Association, MATC Pride Alliance, International SocialistOrganization, UW Madison LGBTI Equality Now, OutReach/OutThere, UWWhitewater P.E.A.C.E. and UW Whitewater IMPACT."
The Badger Herald interviewed participants at the protest
Watch their report, AFTER THE JUMP…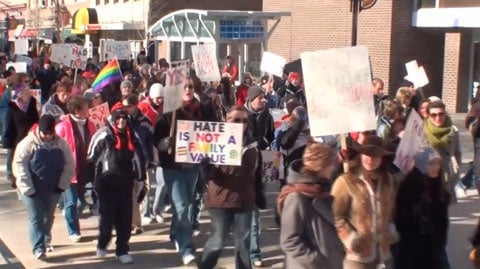 Gay rights supporters march on Wisconsin Capitol from The Badger Herald on Vimeo.
And here are a few more interviews with students:
The gay rights march is over. Now what? from The Badger Herald on Vimeo.