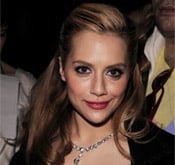 Brittany Murphy, star of 8 Mile and Clueless, has died in Los Angeles, TMZ is reporting:
"Brittany Murphy died early this morning after she went into full cardiac arrest and could not be revived, multiple sources tell TMZ.
She was 32.
A 911 call was made at 8:00 AM from a home in Los Angeles that is listed as belonging to her husband, Simon Monjack, the Los Angeles City Fire Department tells TMZ.
We're told Murphy was taken to Cedars-Sinai Medical Center where she was pronounced dead on arrival."
L.A. police have opened an investigation…
Coronor: Cause of death appears to be natural, autopsy will be performed…
R.I.P.