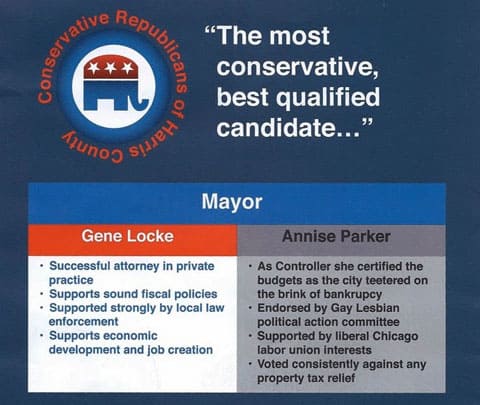 Annise Parker's opponent in the Houston mayoral race, Gene Locke, has been accused of bankrolling the PAC that recently sent out a flyer urging voters not to choose Parker because of her association with Houston's Gay Lesbian Bisexual Transgender Political Caucus, the Houston Chronicle reports.

Above is one portion of the flyer (Full flyer scans here).
Locke has been
dogged by Parker, her supporters and some uncommitted Democrats for
seeking the endorsement of conservative activist Steven Hotze, who has
a long history of opposing gay candidates and causes.
A mail piece Hotze sent out last week urged voters not to choose Parker
and several others seeking municipal offices because they were
"endorsed by gay lesbian political action committee," a reference to
Houston's Gay Lesbian Bisexual Transgender Political Caucus. It labeled others as "radical liberals" and supported some candidates based on a record of fiscal conservatism.

According to
financial documents, Hotze's political action committee received a
$20,000 donation about a week before the mail pieces went out from Ned Holmes, finance chairman of Locke's campaign, and $20,000 from James Dannenbaum, who is on Locke's finance committee.

Hotze's PAC,
Conservative Republicans of Harris County, lists $56,000 in donations
between Oct. 25 and Dec. 2. Only two other donors, who contributed a
total of $16,000, are listed.

The Parker camp
also decried a $50,000 donation from homebuilder Bob Perry to the
Houston Police Officers Union, which endorsed Locke and sent a mailer
attacking the controller as "soft on crime."

Parker campaign manager Adam Harris said evidence points to coordination.
Parker was the target of an ugly mailer campaign in mid-November as well, which featured an image of her with her longtime partner and asked, "Is this the image Houston wants to portray?"
A recent poll showed Parker with a slight edge over Locke. The run-off election is December 10.