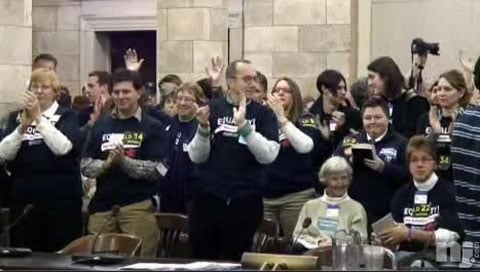 The full New Jersey Senate will vote on a marriage equality bill this Thursday after it cleared a committee hurdle last night:
"After seven hours of public testimony, the state Senate Judiciary Committee voted seven to six to send the bill that would legalize same-sex marriage to a vote before the full state Senate. That vote is set for Thursday.Advocates of gay marriage are racing to get the measure approved in the legislature and signed into law before mid-January, when Governor Jon Corzine, who said he would sign it, leaves office…In the New Jersey Senate, the bill's fate is uncertain and the vote is likely to be close. The state Assembly has not scheduled a vote. Both houses are Democrat-controlled."
VIDEOS of testimony and vote, AFTER THE JUMP…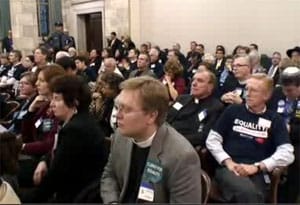 The Press of Atlantic City reports: "Lawmakers were split, with two Democrats siding with the Republicans against the measure. State Sen. Bill Baroni, R-Middlesex, Mercer, was the only Republican who voted in favor of the bill.State Sen. Loretta Weinberg, D-Bergen, the bill's sponsor, said, 'This is the last civil rights of our now almost 10-year-old new millennium.' State Sen. Gerald Cardinale, R-Bergen, questioned voting on the issue in a lame duck session. He said, 'To allow this new culture-changing policy before the new governor is sworn in seems to me to be snubbing our nose at the face of the people of this state and how they voted.'The vote came after a marathon eight-hour committee hearing that included nearly seven hours of testimony from dozens of people who support or oppose the Freedom of Religion and Equality in Civil Marriage Act before senators voted to cut off testimony at 9:15 p.m.
VIDEOS of testimony and vote, AFTER THE JUMP…
Testimony:
Senate committee hears emotional testimony on same-sex marriage bill
Vote:
Senate judiciary committee vote to approve same-sex marriage bill