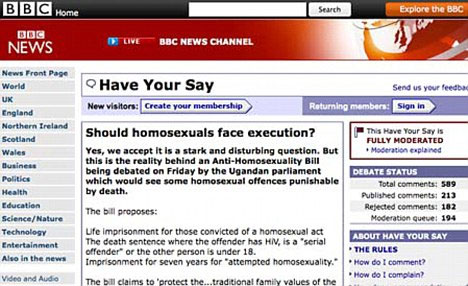 The BBC has issued an apology following outrage over an online forum yesterday in which it posed the question, "Should Homosexuals Face Execution?"
Wrote BBC World Service director Peter Horrocks: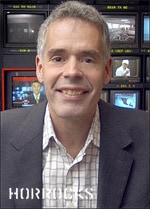 "You might have read some of the coverage about a World Service Africa Have Your Say debate yesterday, or my colleague David Stead's blog post about it last night.
The original headline on our website was, in hindsight, too stark. We apologise for any offence it caused. But it's important that this does not detract from what is a crucial debate for Africans and the international community.
The programme was a legitimate and responsible attempt to support a challenging discussion about proposed legislation that advocates the death penalty for those who undertake certain homosexual activities in Uganda – an important issue where the BBC can provide a platform for debate that otherwise would not exist across the continent and beyond."
The headline? What Horrocks doesn't seem to get is that genocide should not be up for legitimate debate. The BBC should be condemning it. Discussing whether or not genocide is right or wrong is neither legitimate nor responsible, but abhorrent, and only serves to embolden those who would violate human rights in the UK and abroad.