The marine's mission is to gain the trust of the Na'Vi people (blue, catlike, supersized), learn their ways, and convince them to move from their massive tree home so his corporate employers can gain access to the valuable mineral deposits underneath the ancient tree.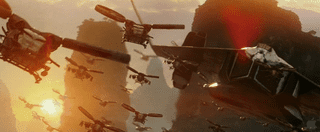 Once in avatar bodies, Dr. Grace, Jake and team hit Pandora and the movie is one "wow" cinematic moment after another. The world of Pandora is so beautiful and  immersive (credit Cameron and team's prodigious imagination …oh, and the hundreds of millions of budget dollars) and its native cultures and politics so consistently realized that fantasy novelists watching it will surely weep from the world-building gauntlet thrown down. Top this!
Unfortunately, the human race isn't so good at diplomacy. Soon enough it's indigenous Na'Vi versus human invaders, giving whole new meaning to the expression 'cat fight'. But whose side will the Avatar be on?
Cameron still favors bold two dimensional characterizations and clunky dialogue. The movies politics are rather awkwardly overstated. But it's all so easy to forgive when the moviemaking is so damn wondrous. He hasn't lost a bit of his storytelling skill or his command of the camera. None of the ego has vanished either. However obnoxious his Oscar winning "King of the World" speech was back in the day, he had a point. When it comes to the sci-fi epic, and to action filmmaking in general, he is very nearly without peer. Unless you'd like to argue with the sheer majesty of Aliens, the spare ferocity of The Terminator or the "look what I can do!" self one-upmanship of Terminator 2: Judgment Day, modern mainstream classics all. You can add Avatar, and its blue tree-loving cat people to that list. James Cameron is still King of the World… or Worlds as the case may now be.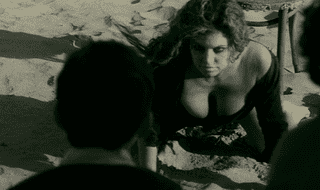 ALSO OPENING



NINE the musical also struts into the select theaters today, alas not in 3D. Even if Fergie's massive cleavage lunge toward the camera lens has tricked you into believing otherwise.  After last week's hate mail for my Single Man agnosticm I'm avoiding the sacred gay topic of the musical !  I love musicals unashamedly and muchly and sometimes I worry paradoxically that Rob Marshall, the cinema's leading practioner of the artform, does not. But I liked his new movie anyway. Nine expands into additional markets for Christmas, but until them you can keep busy with Sarah Jessica Parker and Hugh Grant in DID YOU HEAR ABOUT THE MORGANS?, or Golden Globe-nominated Emily Blunt as THE YOUNG VICTORIA.