Jody Trautwein, the pastor who tried to persuade Sacha Baron-Cohen's character Bruno to become an "ex-gay" in the recent film, is running for office to replace anti-gay Birmingham, Alabama mayor Larry Langford: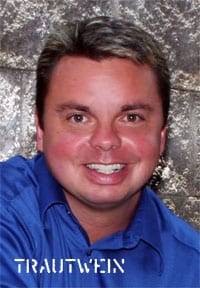 "Trautwein is among 14 candidates in next week's election to replace Larry Langford, who was booted from office in October after being convicted on 60 felony counts in a bribery scheme.
While the minister's scene drew laughter in theaters, he's running a serious campaign. He has a Web site, fliers, volunteers and a platform that includes fighting crime, improving city schools, economic expansion and restoring integrity to City Hall.
But political discussions inevitably begin with Trautwein's part in 'Bruno,' a spoof released this summer in which Cohen portrayed a gay Austrian fashion journalist traveling the United States. 'I haven't seen the movie,' Trautwein, 39, said in an interview. 'From what I understand it's about an hour and a half of darkness and perversion with about three minutes of light.'
Trautwein said he was duped into appearing in the movie through phone calls from a producer and fake Internet sites set up by Cohen's cohorts. Trautwein believed he was helping a German TV crew telling the story of a man who wanted to give up homosexuality.
In the movie, Trautwein counsels 'Bruno' to convert to heterosexuality by believing in Jesus.
"'He wants to come into your heart right now,' Trautwein says earnestly.' Are you hitting on me?' Cohen deadpans."
Trautwein was the former director of the Alabama Coalition Against Same-Sex Marriage.
The election is Tuesday. 
Langford, who was convicted on 60 counts of taking bribes, refused to sign a Gay Pride proclamation, allow Pride banners on city property, or sign a parade permit in May 2008 because, he said, it was inappropriate for governent to endorse a lifestyle ("If I were to sign the permit to put up banners on city right of ways I would be condoning that which I don't condone.").