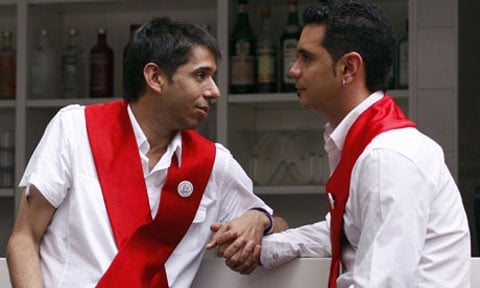 Jose Maria Di Bello and his partner Alex Freyre, the gay Argentine couple whose would-be historic marriage was blocked by a judge last week, want the mayor of Buenos Aires, Mauricio Macri, fined for failing to marry them:
"The couple requested that the court set a fine on Macri for each of the days until they are allowed to wed. On Monday, Freyre and Di Bello went to a Civil Registry in the City neighbourhood of Barrio Norte, after Judge Seijas' court ruled that the law barring same-sex marriages was unconstitutional.
Another court ordered the suspension of the wedding only days ahead of the wedding, claiming the issue fell under Federal Jurisdiction. However, Seijas' dismissed such claims and asked the Mayor to confirm her ruling and request the Civil Registry to marry the couple.
Macri refrained to do so, forcing the couple to wait for a decision of the Supreme Court in the matter."