Or so her mother Francine says, explaining why the former Miss California was pulling out of a $15K offer to appear at a Connecticut nightclub: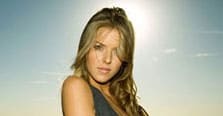 "We are not completely certain that we want her in a nightclub setting
at the hours specified in the contract. As you can understand, this is
in direct conflict with who she is. Her reputation as a Christian is
more important than any public appearance attention or monetary
compensation. If in the future, you have an opportunity
for her to speak to young adults, or physically challenged athletes,
she would love it."
Reputation – must – stay – intact.