Rihanna allegedly told the UK's Daily Star tabloid that she'd be open to a lesbian relationship, and who she'd choose if she had one: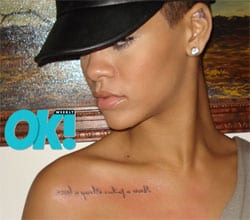 "I'm a bad girl and I like dangerous stuff! I'd love to be an assassin. Either that or a lesbian. Maybe both! Hey, a gay assassin, there's nothing hotter than that. [I'd choose] Megan Fox [as a co-star] – hands down. She's yummy. She's hot. All humans are born with the ability to be attracted to both sexes. I mean, I could see myself in a relationship with a girl."
Rihanna also recently got a new tattoo: "'She came in at about 2:00 A.M.,' East Side Ink owner and artist Keith 'Bang Bang' McCurdy tells OK! exclusively. 'She told me in advance she'd be coming, and then when she got there, she told me what she wanted: 'Never a failure, always a lesson,' but written backwards. I asked her why she wanted that and she said, 'It's kind of my motto in
life for everything.' Instead of considering things to be mistakes,
considering them lessons.' He explains that RiRi, who he says is 'doing great,' wanted the phrase done in backwards writing so she would be able to read it in the mirror."