The Courage Campaign and Lambda Legal both released statements yesterday afternoon announcing that they were redirecting efforts toward 2012 as a target date for the repeal of Proposition 8 rather than 2010. The move leaves Love Honor Cherish, which two weeks ago launched a massive signature campaign, as the leader in the 2010 Repeal campaign. They have indicated their work will continue.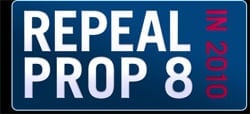 Said the Courage Campaign in a statement:
"The Courage Campaign today called for more research and time to change hearts and minds before returning to the ballot to restore marriage for gay and lesbian couples in California. At least one initiative to restore same-sex marriage is currently circulating that, if it qualifies, would appear on the November, 2010 ballot.
The Courage Campaign, in partnership with Lambda Legal, has recently concluded the first phase of extensive and groundbreaking research about public beliefs and concerns about marriage and homosexuality. It confirmed that attitudes are shifting steadily toward equal treatment of same-sex couples, and that conversations among family members and other close relationships inevitably speed the process. The statement released today is concurrent with a Lambda Legal statement."
Said founder and chair Rick Jacobs: "For months, we have laid out the criteria for moving forward. Like the Obama Campaign, we understand that we need a combination of powerful and clear research that informs an expertly run campaign, an unstoppable movement that harnesses the new energy we have seen since the passage of Prop. 8 and the connections through personal stories and outreach in order to win at the ballot box," said Rick Jacobs, the Courage Campaign founder and Chair. "We are taking the lessons learned from last year's Prop. 8 campaign, the campaigns in Maine and other states to understand the fundamental work that must be done before moving forward in California. We also must come together as a community to create a broad coalition and governance structure, put in place a strong manager and secure the resources to win. Right now, the pieces are not all in place to do so confidently."
Some are asking to see the Courage Campaign's research, which doesn't seem like an unreasonable request.
Lambda Legal released a similar statement.
Said Jennifer C. Pizer, Marriage Project
Director for Lambda Legal: "Over the past year since Prop 8's passage, we've expanded our community
education in California and have seen the remarkable national progress
exert a positive influence here. We've seen our many community groups
collaborating as never before. With the great field operations of the
Courage Campaign, Vote for Equality, Equality California and countless new
activists and allies across the state, the next two years hold great
promise. This work complements the efforts within California's racial and
ethnic minority communities and within the state's diverse communities of
faith. There has never been any doubt that the LGBT community and our
friends and allies will restore marriage equality in California – the only
question has been when. We now believe it's November 2012."
As Equality California has already indicated in intended to make 2012 its target date for repeal efforts, this leaves Love Honor Cherish as the sole group spearheading efforts for a 2012 repeal. Two weeks ago they launched a massive signature drive that will continue.