Some history made in Georgia yesterday, via The Victory Fund. The first openly gay African American lesbian state lawmaker was elected in the state, and Atlanta voters elected the first gay Asian American to the city council: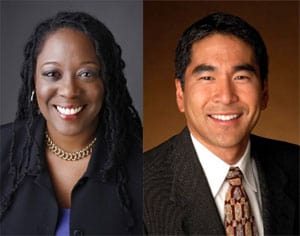 "Simone Bell, a Victory Fund-endorsed candidate, won a runoff
election to represent Georgia State House District 58.  She becomes the
second openly LGBT member of the Georgia State House, joining Rep.
Karla Drenner.  Both are from the Atlanta area…For more than 20 years, Simone has worked as an activist and
advocate in Atlanta and across the south. She's tackled a broad range
of issues including workplace equality, access to affordable health
care, fighting HIV/AIDS stigma and discrimination, safe schools for all
children, youth empowerment and women's issues. Meanwhile Atlanta voters elected the city's first gay man, and first
Asian-American, to the city council.  Alex Wan, a Victory Fund-endorsed
candidate, will represent District 6 after winning his runoff election
tonight.  He currently works as the development director of Jerusalem
House, Atlanta's oldest and largest provider of permanent, supportive
housing for homeless or low-income individuals and families living with
HIV/AIDS."