The second brutal murder of a man in a potential hate crime has occurred in Puerto Rico in less than a month. In November the
decapitated, dismembered, and partially charred body of Jorge Steven Lopez Mercado was found by the side of a road in Puerto Rico.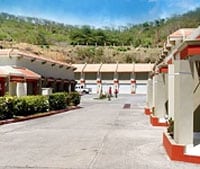 Yesterday, the body of a man in his early forties was discovered at the Las Colinas Motel in Ponce, Puerto Rico. He was stabbed to death and was found yesterday in a pool of blood. He was 5'1" and weighed 230 pounds and was found naked and facing down. The victim, who has not yet been identified, arrived at the hotel with another man.
Said National Gay and Lesbian Task Force Spokesperson Pedro Julio Serrano: "Due to the circumstances, the hate involved and the clear signs of violence that are similar to other hate crimes in the past, we are asking authorities to investigate the hate crime angle in this case. The Puerto Rico hate crimes law forces Police officers to file if they suspect that the crime was bias motivated in their investigative report. It should be a standard procedure for every crime. We urge authorities to follow the law and investigate this and every crime without prejudice."